Cosmétique / Beauté
2016 Newest Private Label Vibrating Electronic Hair Comb

Quantité : 2000 Prix : USD 6.5
2016 Newest Private Label Vibrating Electronic Hair Comber
Description Of 2016 Newest Private Label Vibrating Electronic Hair Comb
What are ions?
Ions are particles formed by oxygen ions with negative charges in the air, combined with water molecules.
Ions are not visible by the naked eye, because the diameter is only equivalent to one thousand of the
diameter of steam particles.

Action principles of ion
Generally, hair easily carries positive charges. If the hair is exposed to ions with nega tive charges, not only
with the static electricity in the hair be eliminated, but the flexibility of the hair ca n also be improved. The ions can penetrate into every strand of hair to wrap the hair, thus keeping the hair's moisture.
Note: The effect of ions is not easy to be found for the following people:
1.Persons with naturally curly hair.
2.Persons whose hair is easy to curl.
3.Persons whose hair quality is good and not easy to be messed.
4.Persons who have had a straightening perm with 3 or 4 months.
5.Persons with short hair.

Specifications of 2016 Newest Private Label Vibrating Electronic Hair Comb
| | |
| --- | --- |
| Power supply | 2pcs AAA batteries (not included) |
| Unit weight | around 110g |
| Material of main case | ABS |
| Package | a comb,user manual,blister,color box |
| Vibration | Yes |
| Waterproof | No |
| Function | Make your hair smooth instantly and no static electricty |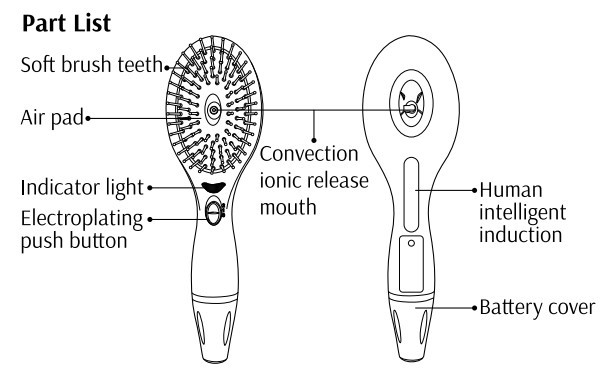 Preparing the 2016 Newest Private Label Vibrating Electronic Hair Comb
1.Inserting the batteries
Use one hand and hold the unit downward while the other hand holds the battery cover.
2.Pull of the cover with a strong pull.
3.Insert 2 AAA batteries.
Note: Match batteries' +/- symbols with the +/- marks on the main unit.
4.Close the cover.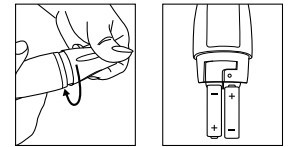 Using the 2016 Newest Private Label Vibrating Electronic Hair Comb
1.Hold the unit with one hand by putting your index finger on human intelligent induction sheetmetal ;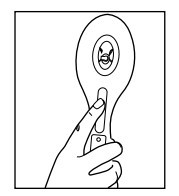 2.Turn on the electroplating power button:


Turn to position 1 , the indicator light turns to red, ion function on;
Turn to position 2, the indicator light turns to green, ion function on + intermittent ma ssage function on;
3.Hold the comb body with your hand and comb your hair.
4.Turn the power button to position 0, the indicator light turns off and units turns off.
Advantage of 2016 Newest Private Label Vibrating Electronic Hair Comb
1.Aboel Ionic hair comb can release tens of millions immediately
2.Make your hair smooth instantly and no static electricty
3.Vibration massage rubber gasbag
4.Optimized design comb teeth pad,soothing head massager promoting blood circulation
Package:
1 set 2016 Newest Private Label Vibrating Electronic Hair Comb including :
a comb,user manual,blister,color box
standard ABOEL box or customized color box
package: 24pcs/ctn
Shipping
1.By international express DHL,UPS,FEDEX etc,or by air,by sea
2.Leadtime: 2-5 days for samples,20-25 days for bulk order
3.After delivery goods,we will tell customer the tracking no.
<p style="margin: 0px; padding: 0
Localisation :
Floor 2-3,NO.80 Baoshi East Road,Shiyan Street,Bao'an District,Shenzhen,Guangdong,China, 518109 Shiyan
,
Personne à contacter :
Cherry liu
,
0755 27526671
Bonne affaire : acheter au vendeur
Consultez notre guide pour effectuer une transaction en toute sécurité ! En aucun cas Algomtl ne peut être tenu responsable des annonces publiées. Seule la responsabilité du vendeur ou de l'acheteur en cas de litige est engagée.
Nous vous invitons à lire nos conditions générales d'utilisations. Vous pouvez aussi vous rendre sur nos
FAQ
et consulter notre page d'informations sur les
risques liés à la contrefaçon
.
Jeudi 20 juillet 2017
Installation pour scierie d'occasion Dumbo 1200 - gauche – sense inverse BATI SCIE A GRUMES DUMBO - Diamètre des volants: mm 1200 - Largueur des frettes : mm 140 ou 120 - Dimensions de la lame : mm 150 ou 130 x 1,2 x 8300 - Volants pleins en font équilibrés et rectifiés dans la bande...
52011 - Bibbiena (Ar)
00390575536588
+393355321306
Mardi 20 décembre 2016
Quantité : 30pcs - Prix : 218,00 €
Advantages: 1.Comes with 3-Prong AC input plugs which you could feel free to use our online UPS without any safety concerns! 2.Able to fit with inverter for changing into 220V output, which you could directly charger your AC devices with any extra connectors/adapters. 3.2 Ways...
86 - BaoAn District
008613590311520
Vendredi 25 septembre 2020
Quantité : 20
High Accuracy SD Card Top Labeling Machine LT-420 used to be adopted by Electronic Manufacturing Sevices(EMS) company for high accurate top labeling on SD, CF, MD card or PCB. FEATURES: - Labeling Accuracy: ±0.5mm - Stepper Motor for fast and accurate labeling performane - In...
33454 - Taoyuan City
+88 6 33 68 98 06