Véhicule
Changjiang 750CC white motorcycle with sidecar

ITEM DESCRIPTION
Packing Detail
Rolled with a plastic paper into a cube steel shelf, and then covered by steel net.
Weight after packing: 460kg/piece
Size after packing: 2200×1600 × 1270mm3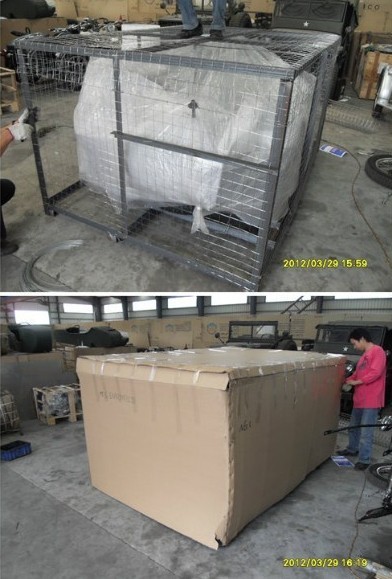 Optional Kits
Technical Data
Product Catalogue
1)125CC, 200cc, 250cc,300cc, 350cc, 600cc, 750cc sidecars
2) electric sidecars/cars/KAINDUDU sidecars
3) 250cc engine, 650CC ,750cc engines.
4) sidecar/motorcycle accessories and parts.
Localisation :
Zhuzhou City, Hunan Province, China, 412000 Zhuzhou
,
Personne à contacter :
Sunny Tang
,
+86 13762331533
Bonne affaire : acheter au vendeur
Consultez notre guide pour effectuer une transaction en toute sécurité ! En aucun cas Algomtl ne peut être tenu responsable des annonces publiées. Seule la responsabilité du vendeur ou de l'acheteur en cas de litige est engagée.
Nous vous invitons à lire nos conditions générales d'utilisations. Vous pouvez aussi vous rendre sur nos
FAQ
et consulter notre page d'informations sur les
risques liés à la contrefaçon
.
Dimanche 13 mars 2022
Quantité : 100 TONS - Prix : 1300 EURO
Bon marché de ferraille de fil de cuivre/Millberry 99,99 % de ferraille de fil de cuivre Matériel : Fil de cuivre de qualité ferraille, marchands de ferraille de cuivre, ferraille de cuivre millberry, cuivre d'ange de Chine, cuivre durci de Chine, cuivre de champ de Chine, ferraille...
86199 - Augsburg
+491744329576
Jeudi 28 juillet 2022
Quantité : 200 Tons () - Prix : 4,35 Euro / Bucket /
Spécifications du produit: peinture murale d'intérieur Peinture pour plafond et mur Renolin seau de 10 litres 4,35 Euro uniquement en gros Peinture murale Renolin 10l Couleur: blanc Peinture émulsion plastique pour revêtements intérieurs respirants pour surfaces de murs et de plafonds...
46342 - Velen
+491608134648
Vendredi 29 juillet 2022
HSPA+ Cellular Module Except used as a standard wireless modem through AT command, It offers Audio(optional), SMS, MMS, Phonebook. It is ideal for a wide range of products including Tablet, Gateway, Telematics, Tracking solution, Security solution and much more. General features ...
235 - New Taipei City
+886 2 8221 6389