Véhicule
Customized Sapphire blue Changjiang750cc Sidecar Tricycle

ITEM DESCRIPTION
1. Model Number: CJ750B
2. Material: iron, painted
3. Style: Classic military theme
4. Color: Sapphire blue
5. Engine: 750cc
6. Customization: is welcomed, we can do patterns on car body
7. Available Colors: any color
8. MOQ: 1 piece
9. Optional capacity: we can change the engine with 250cc, 300cc, 350cc, 750cc
10. Optional Equipment: two ammo cans, blackout lamp, gun rack, disc brack, BWM-R71 fuel tank, spare fuel tank, small tool box
REMARK
1. Because of different monitors and brightness, there may exists tiny color difference.
2. Items will be insured from damage during transport from our factory to the destination port. If you want the items shipped to your house, please contact us.
3. We are not responsible for any duties, taxes, or additional charges that may be charged by Customs for any International deliveries.
4. There are two optional packing methods.
1) Wooden box packing
Cargo is Packed with un-fumigated wooden box.
SHIPMENT
We ship the item by sea generally, if you have other ideas please cantact us.Customized items will be shipped in 15 work days on payment received. Please make sure the shipping address is correct. We are not responsible for wrong address.
For detailed shipping costs, please contact us.
Packing Detail
Rolled with a plastic paper into a cube steel shelf, and then covered by steel net.
Weight after packing: 460kg/piece
Size after packing: 2200×1600 × 1270mm3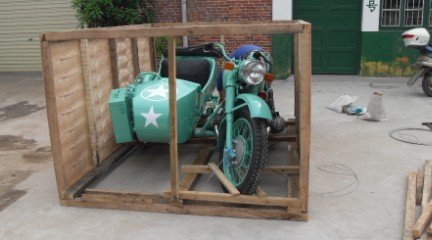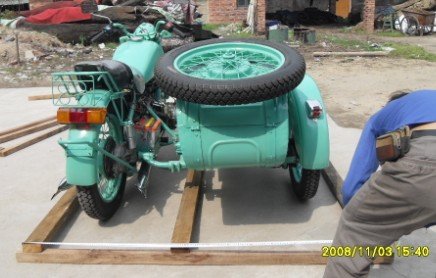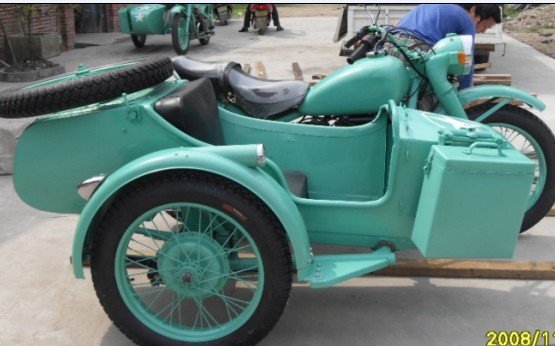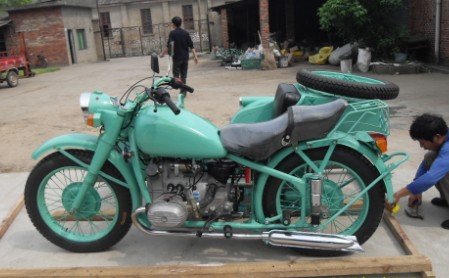 Price terms
This car can't send express, need normal customs clearance, The costs(5422US$) include: steel tower packing, into the storage fee, customs clearance fee, 17% of the value-added tax(922).Sea freight are different from places , please contact us according to the country to modify the freight.
Packing Detail
Rolled with a plastic paper into a cube steel shelf, and then covered by steel net.
Weight after packing: 420kg/piece
Size after packing: 2400×1800 × 1270mm3
6pcs in 20" container
14pcs in 40" container

Technical Data
Model

category

Antique750B—A1

Antique 750B—A

1

performance criterion

Brake distance

≤8m

Top speed

≥85KM/H

MIN steady speed

≤25KM/H

gradeability

≥15°

Economic speed

50KmH

Economic speed fuel consumption

≤4.6L/100Km

2

Vehicle size and quality parameters

Dimensions

2230 ×1590 ×1000mm

fore-and-aft wheelbase

1492mm

Fore-and-side wheelbase

1147mm

tread

1175mm

Ground clearance

140mm

Turn round-diameter

6065mm,4380mm

Dry weight

320kg

Max payload

220kg

3

The engine and the ignition system

Type Model

series of F2P78FMF1

series of D2P78FM

type

Four-stroke double-cylinder air-cooled and Horizontally-opposed

Total displacement

746ml

Cylinder diameter*stroke

78×78mm

Compression ratio

7: 1

6: 1

Min no-loading stabilized speed(idling)

750±75r/min

Direction of power and appropriate speeds

17.7KW(24HP)/4000±300r/min

14KW(19HP)/3600±300r/min

Max power and its corresponding speed

22KW(30HP)/5000±300r/min 17.7KW(24HP)/4000±300r/min

Max torque and its corresponding rotary

49N(5kgf·m)/3800±300r/min 39.2N·M(4gf·m)/3000±300r/min

Gear position No. 1 Gear position

16.63: 1

No. 2 Gear position

10.55: 1

No. 3 Gear position

7.85: 1

No. 4 Gear position

6.01: 1

Rear drive ratio

4.62: 1

Starting mode

Kick & electric

Way of ignition

battery ignition system with contact

Spark plug type

T4135J or T4114J

Spark plug clearence

0.6~0.7mm

Valve clearence

Air intake,exhaust: 0.1mm

4

Fule and lubrication

Capacity of gasoline

26L

Fuel trademark

70#or90#gasoline(SH0112—92)

Oil capacity of crankcase

2L

Transmission case engineoilcapacity

0.8L

Oil capacity of rear drive


0.175L

Lubricator oil

>0°C,HQ1.0GB485: <0°C,HQ6GB485</p>

5

Drive system

Cluth

Mechanically controlled double-disc. Dry friction


Tyre size (inch)

3.75—19

Tyre pressure(kpa)

Front wheel 250±20kpa,rear wheel335±kpa,side wheel350±20kpa

Brake pattern

The front brake: drum handbraking rear brake: drum footbraking

6

Electrical system

Rated voltage

12V

Storage battery

6QA36

Alternator

MJF—280B

silicon rectifier

GZL—22

regulator

JFT—149

starting dynamo

MZQ—07A

starting relay

JN3—12

Headlamp

12V60/55W

Cornering lamp

12V20W

taillight

12V20/8W

Electric hom

12V,≤3A
Product Catalogue
1)125CC, 200cc, 250cc,300cc, 350cc, 600cc, 750cc sidecars
2) electric sidecars/cars/KAINDUDU sidecars
3) 250cc engine, 650CC ,750cc engines.
4) sidecar/motorcycle accessories and parts.
Localisation :
Zhuzhou City, Hunan Province, China, 412000 Zhuzhou
,
Personne à contacter :
Sunny Tang
,
+86 13762331533
Bonne affaire : acheter au vendeur
Consultez notre guide pour effectuer une transaction en toute sécurité ! En aucun cas Algomtl ne peut être tenu responsable des annonces publiées. Seule la responsabilité du vendeur ou de l'acheteur en cas de litige est engagée.
Nous vous invitons à lire nos conditions générales d'utilisations. Vous pouvez aussi vous rendre sur nos
FAQ
et consulter notre page d'informations sur les
risques liés à la contrefaçon
.
Vendredi 17 janvier 2020
Quantité : 1500/matri - Prix : 290,00 €
More About Our Brand Best Quality Wheat Flour - ABC Brand - Best Price - ISO Certified - 50 KG Brand ABC Wheat type High Quality Hard Wheat Purpose Cake, Bread, Bakery, Biscuits Protein 11.5% min Gluten 24% to 25% min Moisture 14% MAX Ash 0.65 MAX ...
002 - Cairo
00201220066112
00201220066110
Vendredi 16 août 2019
HLP Klearfold: The Visual Packaging Innovator and Market Leader HLP Klearfold is the clear packaging specialist… the company manufactures visual packaging exclusively and has been doing so for over 40 years. It is the world's largest and most accomplished producer of plastic folding...
510810 - Shenzhen
718 554 3271
Samedi 30 mars 2019
Le séchage de la viande en utilisant une méthode de salage est un moyen très efficace de conserver la viande pendant longtemps. On ajoute généralement des nitrites et des nitrates dans la viande, ce qui non seulement tue les micro-organismes, mais améliore également le goût, la couleur...
400067 - Mumbai
+91 22 42661121
9664965358
+91 9664965358